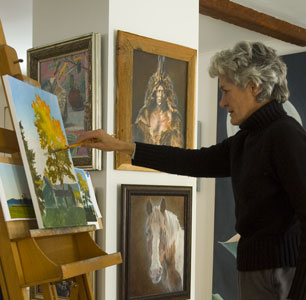 With a lifetime of experience as a professional fine artist, Caroline Putnam has gathered a uniquely varied body of knowledge and skills and work.
Raised near the Putnam estate in Massachusetts, Caroline developed an early appreciation for the fine art that graced her grandparent's home. Works the likes of Botticelli, Pissaro, Renoir and Monet surrounded her.
She started drawing at the age of two and chose Rhode Island school of Design for her formal art training in the early college years.
Although RISD gave Carol a solid foundation in design, her desire to understand the technical qualities of her materials drove her to explore the pigment, surfaces and chemical relationships involved in application.
In fact, until 1993, Carol made her own paint. She also spent several years duplicating the recipes of Ceninni and Rembrandt as well as other, more obscure painters; studied their applications and further honed her skills by copying their work.
Carol's love of the outdoors and wide open spaces led her to the high desert of Arizona where she not only maintained an art studio, but became a master gardener and ran a commercial gardening service for several years.
Her painting clearly reflects this life.
Caroline Putnam has shown in such prestigious spots as the Sedona Arts Center, in Sedona Arizona, and DC's preferred lodgings at The Green Brier Resort in West Virginia, and most recently at the Forest Lawn Museum in Glendale, CA.
She enjoys a busy schedule, with much of her most recent work executed as commissioned oil paintings, faux finished spaces, interior decorative art, trompe l'oeil furniture and as murals on building exteriors and inside homes around the Los Angeles area.
Caroline continues to study disciplines with the aim of expanding and already large body of knowledge pertinent to delivering fine works in the arts.
A recent move to south central Maine has opened a another level
of creativity inspired by the natural beauty of the area and the friendly, down to earth nature of the people who live here.
Among the services that the artist offers are portraits (of people, pets, and houses),murals, faux finishes and graphic design. She also offers giclee prints of her original work.
Carol resides in Augusta, Maine and paints out of her studio in her home.